INDIANA COUNTY SOLAR CO-OP 2 --- Information Sessions FREE and Open to the Public!
JANUARY - FEBRUARY NEWSLETTER --- Read About the Latest Progress!
Mission Statement
To identify new opportunities in economic development, education and job training (workforce development) in the renewable energy sector, agriculture, building construction, and environmental restoration and stewardship.

Workforce Development
According to the Center for Economic Operations: Workforce development is an essential component of any successful economic development strategy. All employers need access to a well trained workforce and ongoing training programs to keep their workforce skill levels current, to give their companies a competitive edge, to increase productivity, and to continue to grow and expand.
Education, training, and opportunities for continuous learning are critical in order to feed the demand for innovation in today's knowledge-based environments. Universities and community colleges are traditional providers for the continuing education and adult training needs of a community.
Investing in workforce development in the past decades has been challenging due to stiff competition from foreign companies, among many other structural and social based reasons. Sustainable economic development commits to finding ways to overcome these challenges.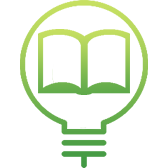 Citizen Education
An educated citizenry is one that understands the complexity and the inter-relatedness of issues affecting communities. When educated citizens can talk with each other and with their local officials and collaborate through coalitions, communities increase their ability to grow and prosper, for all of its citizens. A thriving community includes all of its citizens, regardless of differences such as race, ethnicity, orientation or income.

Economic Development
The core focus of economic development is business retention, attraction, and development. In low density, rural areas, economic development and meaningful employment opportunities can be difficult to achieve using traditional methods of economic development. In recent decades, local officials have committed to a growth model that responds to a complex, competitive, globalized, and diverse world.
Part of that response involves harnessing growth opportunities from the renewable energy sector, healthy and sustainable agriculture, efficient building construction and renovation, and environmental restoration and stewardship. Using local assets and working with regional partners can result in communities that grow and prosper and are resilient, vibrant, futuristic, and engaged.
Rural Pennsylvania has untapped strengths: abundant natural resources, strong work ethic, solid communities and high quality of life. Sustainable economic development incorporates these traits to ensure that rural areas can share in the nation's economic growth.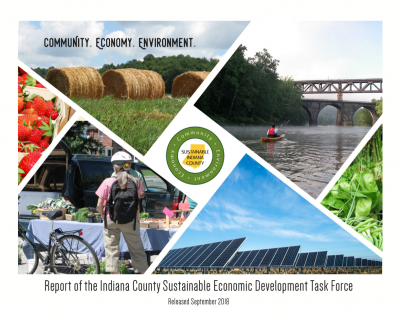 2018 Report
This report fulfills the initial mission of the Task Force to identify strategies for local economic development. The report does not complete Indiana County's path to a more sustainable economy. Rather, it is a reflection of, and a continuation of, the forward-thinking direction already underway.
Our mission is to identify new opportunities in four focus areas:
Sustainability in relation to the Task Force:
---
---
The Sustainable Economy is an emerging economic sector focusing on environmentally friendly initiatives including, but not limited to, energy efficiency and retrofitting buildings, increasing installation and use of renewable energy, sustainable and regenerative agricultural practices, green chemistry and green manufacturing, remediation and reclamation and environmental conservation for future generations.