Task Force Summary Report Presented to the Commissioners 11-28-18 – See Gazette Article
https://www.indianagazette.com/news/sustainability-report-received/article_52d80b1f-717f-596d-a876-01651850bf7b.html?utm_medium=social&utm_source=email&utm_campaign=user-share  
Click on the report below to see a full copy of the report.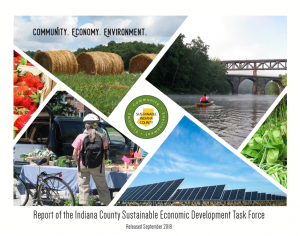 The Task Force's task is to engage local citizens in a participatory process to create a set of recommendations for the County Economic Development Plan. This process is taking place in four focus groups of local stakeholders, each tackling one of the following:
Agriculture.
The renewable energy sector.
Building construction and materials.
Environmental restoration and stewardship.
On September 28, 2017, the Steering Committee held a kick-off event at Indiana County Technical Center (ICTC). The event began with introductory remarks by County Commissioner Sherene Hess, who outlined the purpose and plan for this process. Following her introduction, Matt Ward Co-Founder of Sustainable DC presented a keynote address. This firm helps governments secure resources for revitalization and tools for success in a green economy. Ward's address focused on the key elements of sustainable economic development, and highlighted success stories to inspire the group. Following his comments, Susan Boser provided a brief overview of the specifics of the process, and then she and group facilitators Josh Krug, Jeff Raykes and Kay Snyder described the topic for each group. The individual focus groups had separate break-out sessions at that point to get started with their work.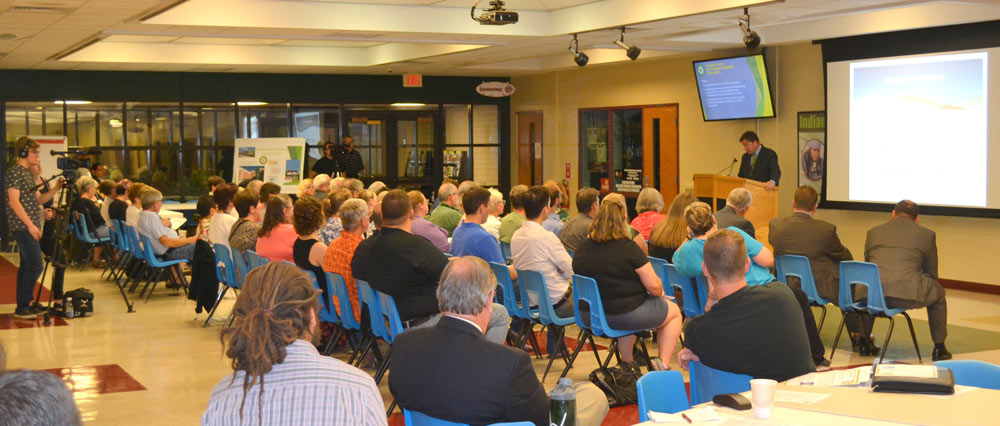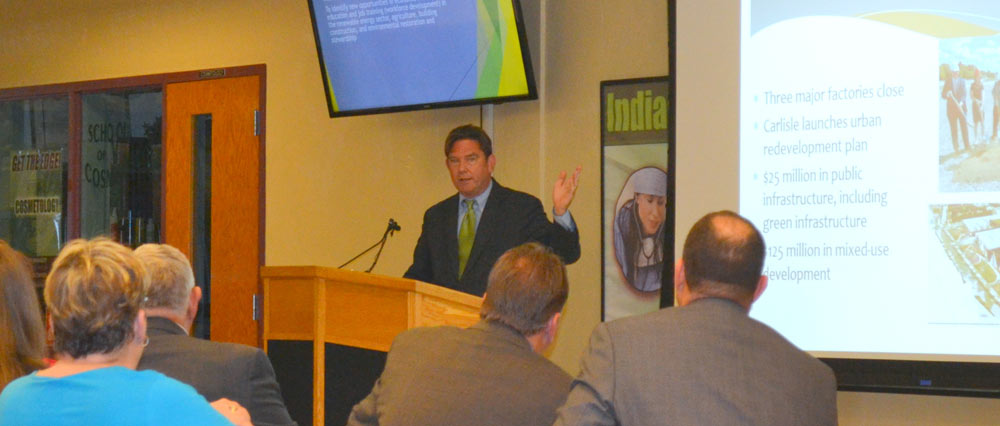 ECONOMY • COMMUNITY • ENVIRONMENT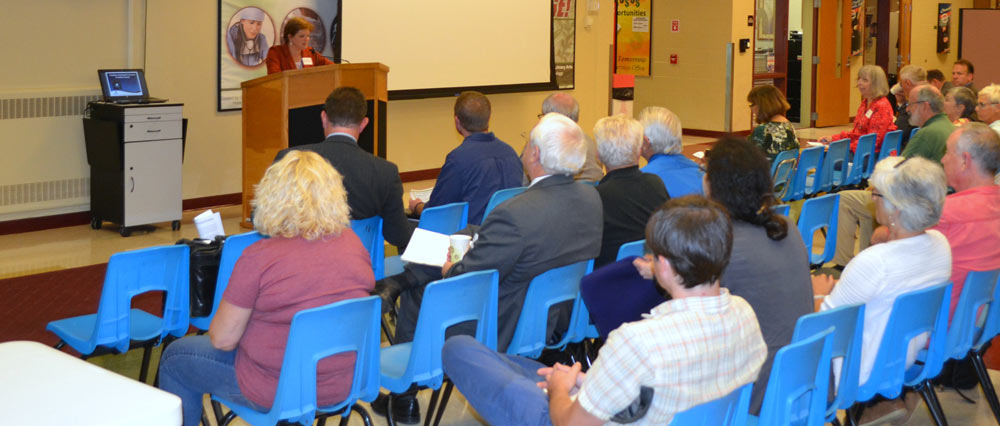 Each group is charged with identifying new opportunities in each of the following strategic areas: economic development, education, and job training/workforce development. Following this Kick-Off Event, each group will meet monthly through April to identify priorities, do their own research and prepare a set of recommended strategies in these three strategic areas, specific to their substantive topic.
At the conclusion of this process in spring of 2018, the Task Force hosted the final focus group meeting where the groups presented their big ideas and action steps. Stakeholders were asked to review our goals and action steps at a meeting on June 13th, 2018. A survey is available for your input on the 'Stakeholder Listening' page. The summary report will be written and presented at a second Sustainable Economy Summit on September 28, 2018. The work of the Task Force at this stage will be made publicly available through this website, and invite public input and engagement. At the conclusion of this synthesis, the final report will be presented to the Indiana County Center for Economic Operations as input into the Indiana County Economic Development/Work Force Development Plan.
Structure of Focus Groups: Topics for each Meeting
Meeting 1:
Introductions, orient to project, brainstorm a "wish list" in each of the three areas: economic development, education, job training/workforce development.