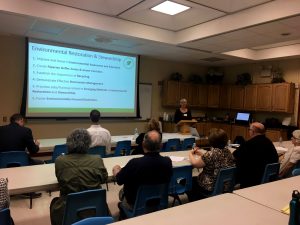 The Indiana County Sustainable Economic Development Task Force held a Stakeholder Listening Session on June 13th, 2018. Stakeholders who had an interest in any of the four focus groups were invited to hear the progress made in our planning and give input to the groups results.
The input offered will be included in the final report which will be presented at the Summit II on September 28th, 2018. We have also added a survey to this page to obtain additional input and ideas.
To learn about the project in more detail, open the Stakeholder Meeting Handout that was provided on during the listening session. This document is a consolidation of each focus groups 'Big Ideas' and 'Action Items/Strategy' for implementation. Additional information is available on this website under the Task Force Progress page by selecting the Focus Group of interest and opening the corresponding Notes or Big Ideas section.